Her photos of gay people in Vietnam won Maika Elan (b.1986) the 1st Place prize for contemporary issues stories at World Press Photo 2013, making her the first Vietnamese woman to win at World Press Photo. During the Award Days, she made time to talk to GUP about happy gays, photographing crowds and being wary of beautiful photos.

Among all the war photography and other grave worldly issues, Maika Elan's photos are some of the happiest at World Press 2013. Elan, whose real name is Nguyen Thanh Hai, is soft spoken and very energetic, and in her case that isn't a contradiction. "I like all the photos at World Press," she says when we meet in Amsterdam. "As soon as a photo makes me feel something, I think it's a good photo. I would like to see all the presentations. But I only have a few days here!" It's her first time to Europe, and she's travelling with her agent as well as her husband. After Amsterdam, Paris and Berlin are on the schedule too.

workshop
She started working on the project that ultimately won her the World Press two years ago, during a workshop with Magnum photographer Antoine d'Agata in Cambodia. She remembers the difficulty of the beginning. "It was a ten day workshop, and seven days had passed. When I went there, I had many ideas for topics, but there was a festival at that moment so everything was closed. I felt very nervous and sad, because it was Friday already and I had only three days left till the final editing. And every day people came in with new photos, and I didn't have any photos. People started asking me, 'why did you come here then?'. I wanted to find something that really engaged me. So I was looking around on the internet, and that's when, among the normal tourist information, I found the website Pink Choice, some sort of a Lonely Planet for gay people where you can find events and hotels for gay people. I was really excited when I found this. Also it solved my problem, because hotels are never closed during festivals".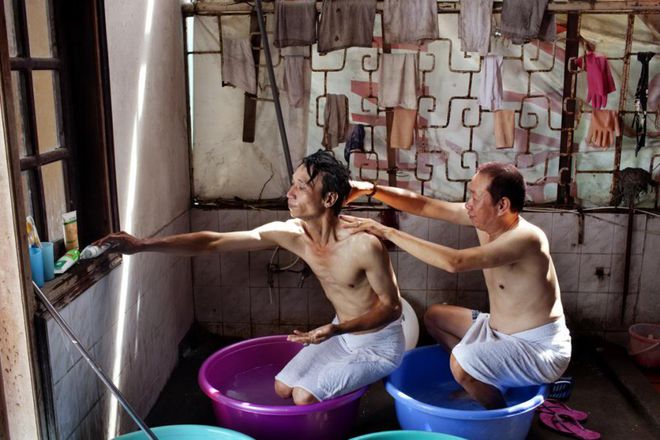 So she went to a gay hotel. She told the hotel owner that she was a student and that she wanted to take photos of the atmosphere in the hotel. "He explained to me that people came to his hotel for their privacy, so that I would have to ask every single person for permission," she remembers. "That way it made more sense to photograph couples than public spaces. The couples I asked were very welcoming. So, while at first I didn't have a topic for my workshop, suddenly I knew many couples who wanted to be photographed".
hiding
Back in Vietnam she wasn't sure if she wanted to continue with the topic. "At first I thought it wasn't really my own struggle. But then I saw an exhibition on homosexuals in Vietnam, and I really didn't like it. They only showed blurry faces and all the people were photographed from the back. I have worked for fashion magazines, and I've met a lot of gay people there. For example, a stylist I work with is gay. And he isn't like the people in that exhibition. He and the other gay people that I knew were open and happy people, and they liked to show their faces. They weren't hiding like the people in the photos. That hiding made it seem like something wasn't right with homosexuality. When you see gay people hiding, you still can't see them as part of our society. So I wanted to show homosexuality as something normal, as something that exists. I also wanted to show gay people's private moments. Because many Vietnamese people are afraid of that moment. They think that two men touching is something bad. I wanted to make them less afraid". And so, in her series, you see for example two men, businessman Hieu (58) and social worker Thang (62), washing each other in tubs on their rooftop. In another photo you see Hanh (24) and Hai (47) naked in bed, arms around each other, one with his face near the other's crotch.
"There is more and more attention to homosexuality in Vietnam," Elan says. "There are for example movies about gay people, and they do try to make their audience understand more about homosexuality. But there is usually a lot of drama in these movies. So, in the end, what you can learn from these movies is that if you come out as gay or lesbian, your family will leave you and also, you will probably die. Movies that are made about homosexuals in Vietnam are never happy movies. But I know that there are happy gays".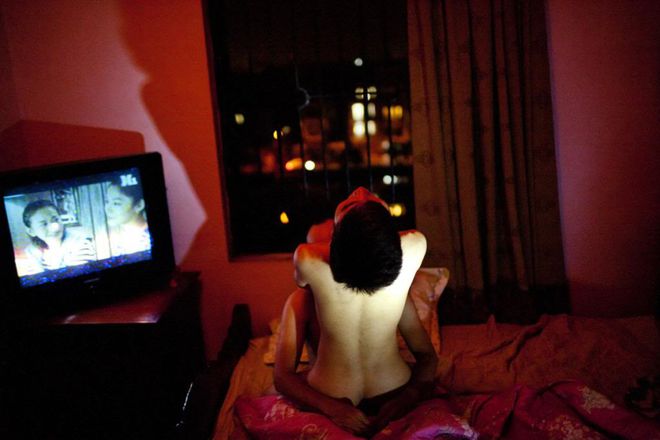 Vietnam has never made homosexuality illegal, but same-sex couples living together have fewer rights than opposite-sex couples and homosexuality still has problems being accepted socially. "In Hanoi it's very difficult to be gay, because people there still live with their families," Elan explains. "But in Ho Chi Minh city it's much easier, because people work and live in the city, and they just rent rooms there, so they don't have their families intruding in the business. They're much more open there".
lazy
Through the gay people that she knew, she gradually got to know more and more gay people. "I always met people for coffee first and once we agreed on me taking photos of them in their houses, we would do that. Some days were lazy. I would just come in there, we would sit there, and I wouldn't even take a lot of pictures. But I enjoyed those days too. It was like seeing romantic movies every day. For two years!"
She remembers that when she started selecting photographs from the series, she chose the ones that she saw as the most beautiful. But, seeing them again a few days or months later, she began to look at them differently. "I want people to believe in the moments that I photograph, I want them to believe that they are real and about real people. If you see two people that are too beautiful, if they look like models, then I'm not sure if people believe it's real. I want my photos to be of moments that people could encounter in their own lives. So I avoided lighting that was too beautiful, or the photos in which people simply looked too good".

Though the photographs from this series are based in documentary, Elan doesn't restrict herself to this approach. "I just love photography. I do fashion, portrait, documentary. So I'm never bored with photography. If I start to feel bored with for example documentary, I switch to portrait. If I'm bored with that, I switch to lomography and just photograph my friends".

Even though she knew from very early on that she wanted to study photojournalism, her father advised her to study sociology first. "He is a philosopher and he thought that writing and photography were a skill and that I should learn about content first. He suggested sociology. I don't regret studying it, it helped my thinking, but already in my second year I started quitting sociology classes to be able to follow photo classes".

soul
Beside The Pink Choice Elan has been working on several other projects. One of her other recent series is Here Comes the Thaipusam (featured in GUP #35). "I heard about the Thaipusam festival in Malaysia and I was intrigued by the fact that during this festival people punish themselves with little sticks that are pierced through the skin. They hurt their skin in order to keep their soul. In the plane I was reading some fashion magazines, and I saw models who worked hard to protect their body and their skin, because they want it to be perfect. I thought this discrepancy was so funny". So while still in the plane Elan took photos of the magazines, and then when she arrived in Malaysia she rewound her film and took photos with the same film. "I didn't even know which pictures would go on top of which ones. It just looked like fun for me, I wanted to try it out". The result is a mesmerising, dreamy series of photos that combine images of super models and people who have pins through their skin.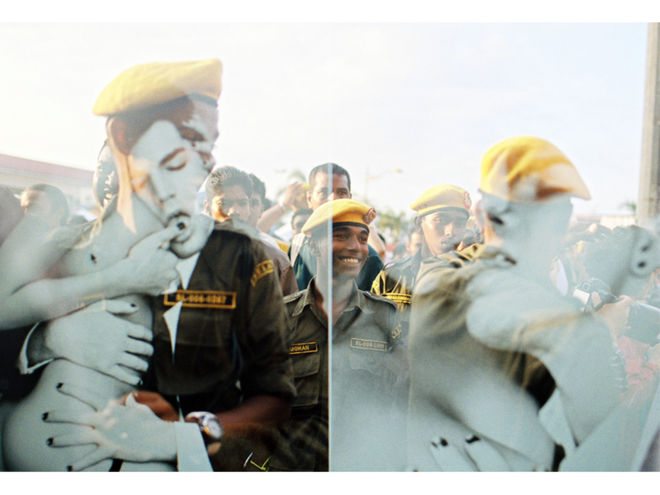 To Elan, exploration and fun have always been central to her photography. "I love the activity of taking photos. But sometimes when I see something really beautiful I just stop taking pictures. Because I know that I cannot capture it exactly as beautifully as I see it with my own eyes. During those moments I think that it's more important to enjoy the moment than to photograph all the time. Landscapes are a good example. I enjoy watching beautiful landscapes, but to photograph them is a bit more difficult. I always thought that landscape photography is so easy, but in fact it's very difficult. I see that older people are better at landscape photography, so maybe I just have to wait," she laughs. "I have the same problem with groups of people. I love crowds, I love to be among a lot of people, I always go where there are many people. But I can't photograph there, when I do so they turn out bad pictures. So then I realize I should just give in and enjoy being in a crowd, rather than that I push myself to photograph it".
But according to Elan, there's something to photography that will always be of great importance. Even words cannot describe that importance, she thinks. It's rather the lack of words: "I often find it difficult to talk about photographs. But I don't think that has anything to do with me. In fact, I think that it's a sign that photos have something of themselves that words cannot reach. It means that photography has power in itself".
To see more of Maika Elan's work, visit MoST Artist's website and her own website and see GUP #35 which features Elan's series
Here Comes The Thaipusam
.