New York photographer Jamel Shabazz (1960) was in Amsterdam to open his solo-exhibition 'Represent' in Gallery Cultural Speech. Between posing with admirers and an artist talk about the series, he sat down with GUP to catch up.
Are you going to do something in Amsterdam while you're here?
Definitely. I only have two days but I will photograph individuals on the streets as much as I can. Where ever I am, I try to capture the energy of the people.
The last time we talked (for GUP#25 The Street issue), you were planning to find a publisher for your 90s work. How did that work out?
Well I'm going to revisit that idea another time. The book 'Seconds Of My Life' is a retrospect of the eighties, but it also sketches the nineties. Hopefully that will galvanise some publishers' enthusiasm for a nineties retrospect. But, I have been ping-ponging between the 70s, 80s and 90s for a long time. It's also the moment to show my growth, what I can do with digital photography now.
What is that growth about?
I wanted to meet people outside of New York too, so I travelled through Ethiopia, Brazil, France, Morocco, England. My most recent book 'Represent' (2010) shows pictures of young people from all over the planet. It's about elevation; to stay in New York would be stagnation. It's a big world and I want to capture it while I'm still youthful.
Are you still focused on youngsters mainly?
Totally. And even though they have their own cameras now, they are still very eager to pose. People want to be recognised and to secure their legacy. Not much has changed over the years. My role as a photographer is still the same. Making photos was and is just one aspect; more important to me is talking to the individuals. I want to talk about what is going on; education, health, future-wise. About building a better community and a better world.
Your recent body of work (2005 -2012) contains a lot of landscapes.
Yes, it's more geared towards fine art. I did a lot of portraiture back in the day, but now my eye has changed. I'm looking at landscapes, sunrises, sunsets, shooting the natural versus the concrete. Also, now I see the importance of shooting old people because of their legacy to history.
Are you photographing or educating more nowadays?
Educating. Photography is just the magnet that attracts people to my work. So when they come to my show, I tell them about my life and some of the pitfalls I had and hope I can be an example for them. I want kids to pick up their cameras and shoot each other with their gear instead of guns.
What's your plan for 2013?
This year I already did eight shows and I hope many will follow. Also, I want to keep giving lectures and workshops where I can and get my work into more libraries, universities and museums. I am not a fan of selling my photos in galleries; I just want it all to be preserved. Next to that I want to approach HBO for a mini-series about the time before crack hit New York. The time before The Wire and The Corner, when young men were striving for education and young women were dignified. It will change the world; teach young men how to speak to women, that friendship between boys and their fathers was normal and eating together at a dinner table also. I want to show all that.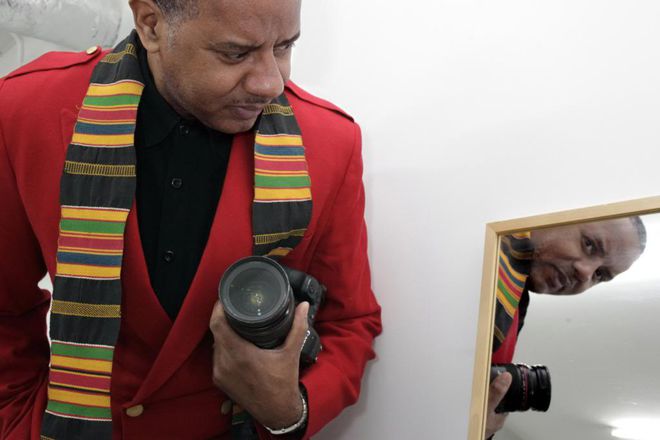 ©
Martijn van de Griendt