Californian-based photographer and film director Fan Ho (1931, Shanghai) started photographing at the beginning of the 1950s. With his Rolleiflex camera, he explored urban life in the poor, rundown, central neighbourhood of Hong Kong. Over the years, Ho has won no less than 280 awards from international exhibitions and competitions for his unique, poetic black-and-white photographs. His most recent book A Hong Kong Memoir, published in 2014 by ModernBook editions, was already sold out during pre-order. However, a selection of photographs from A Hong Kong Memoir, exhibited in Themes + Projects by Modernbook gallery, are available now for purchase.

Although the images of A Hong Kong Memoir were taken during the '50s and '60s, they were not published or seen publicly before 2014. Initially, they served as test shots and inspiration for the work that would follow, the work that was published in Ho's first book, Hong Kong Yesterday (2006) and his second book The Living Theater, (2009). The three books display pictures Ho captured in the crowded streets, slums, markets and harbour of Hong Kong. Like a voyeur, Ho portrayed the daily lives of a large amount of poor street vendors, labourers and children. His misty street scenes portray the emerging metropolis of Hong Kong in a poetic way. The images are proof of Ho's technical skills, which were self-taught. In his photographs, Ho often plays with shadows and light-dark contrasts, which add drama to the captured street scenes. Besides lighting, the composition of the images is very interesting. Ho was able to reveal geometric lines and shapes in a chaotic environment.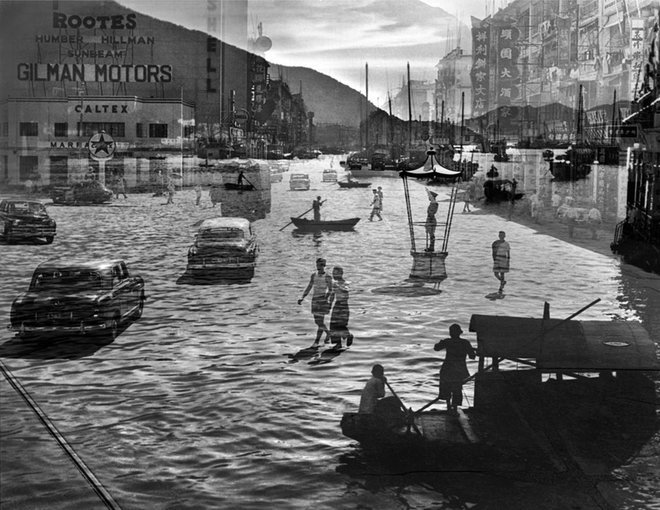 Impression of old Hong Kong (1958), 2010, A Hong Kong Memoir, Fan Ho photographs courtesy of Themes+Projects, San Francisco



What makes the photographs of A Hong Kong Memoir so different from Ho's previously published work, is its contemporary experiment. In 2011, Ho began revisiting negatives that he didn't get a chance to print back in the '50s, '60s, and '70s. By holding two negatives up to the light, he sandwiched these negatives together to create new compositions. Ho for example mixed street scenes with natural landscapes or combined zoomed in images with distant images to create a setting with surreal proportions. Once he created something that pleased him, Ho would place the sandwiched negatives on the scanner and montage them.With A Hong Kong Memoir, Ho proved that even images from 70 years ago, which seemed to be unimportant test shots, can transform into something wonderfully refreshing by treating them in an experimental way.
A selection of 20 photographs of A Hong Kong Memoir, are available now for purchase.