On November 25, 2017, the third Jimei x Arles International Photo Festival opens in Xiamen, in the south of China. The photo festival is a co-creation of Sam Stourdzé, the director of the renowned Rencontres d'Arles photo festival that takes place in France each year, and RongRong, the founder of Three Shadows Photography Art Centre, and thus brings together the curatorial viewpoints of East and West art photography.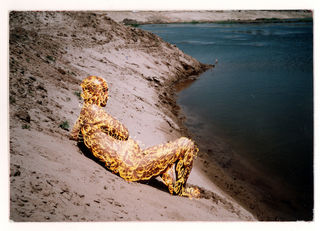 The programme of Jimei x Arles combines exhibitions of Chinese works together with eight exhibitions directly from this year's Les Recontres d'Arles, as well as some of the programming of Arles (like the Discovery Award) applied to the local artists, ensuring a fascinating mixture.

The programme includes:
- Exhibitions from Rencontres d'Arles 2017: Early Works by Joel Meyerowitz, Superfacial by Audrey Tautou, The Gorgans by Mathieu Pernot, Iran: Year 38 with works by 66 Iranian photographers, Stories of the Immediate Present by the Spanish collective Blank Paper, Retracing Our Steps: Fukushima Exclusion Zone - 2011-2016 by New Discovery Award Winners Carlos Ayesta & Guillaume Bression, The Parallel State by New Discovery Award Nominee Guy Martin, and the 2017 Book Awards.
- Ten Jimei x Arles Discovery Award nominees, selected by five young curators: Guo Yingguang and Jiang Yuxin (curated by He Yining), Shao Wenhuan and Yu Mo (curated by Liu Tian), Deng Yun and the real (curated by Nie Xiaoyi), Yu Feifei and Siu Wai Hang (curated by Tang Zehui), Feng Li and Sun Yanchu (curated by Thomas Sauvin).
- China Pulse: Four exhibitions curated by young Chinese curators and China photography specialists, Uncertain Traces (curated by Du Xiyun), To be an image maker (curated by He Jing), BrokenIce: 160118-170811 (curated by Ruben Lundgren), Phantom Pain Clinic (curated by Shen Chen).
- Local Action: Exhibitions curated by Xiamen curators, Chen Wei (After the Ebb) and Wang Qi (Social Images).
- A solo exhibition of Chinese photographer Wang Wusheng.
- Greetings from Indonesia: Two exhibitions to showcase the vitality of contemporary Indonesian photography.
- A Collector's Tale: An exhibition showing the works from a prominent Chinese photo collector.
Altogether, the 2017 festival will present works by more than 150 artists from China as well as the UK, United States, France, Iran, Spain, the Netherlands, and Indonesia. Jimei x Arles International Photo Festival is open from November 25, 2017 to January 3, 2018.